Made to Love Magic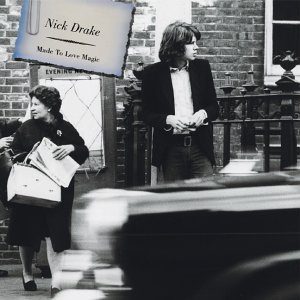 Though a few tracks may be known from other recordings this album (published in 2004) is a very collectible compilation. 'Magic (I Was Made To Love Magic)' is one of Nick's first songs written around 1968. It didn't make it onto his first album 'Five Leaves Left' as that was already "too full" but was later included on the album 'Time Of No Reply' with an orchestral arrangement by Richard Hewson.

Two songs included here were updated for the album. Both were newly recorded in 2003 using the original orchestrations by Robert Kirby. On 'Magic' Nick's vocals were isolated from the original 1968/69 recording whilst the track 'Time Of No Reply' only existed before as a version with Nick on vocal and guitar. In 2003 the previously unheard song 'Tow The Line' was accidentally discovered at the end of a tape during the research for this album and features as the last track.

'Hanging On A Star' has always been a very moving song, here it can be heard in an alternate, stunning version. The guitar sounds more intricate and the vocal, whilst faltering and strained, is beautiful in its own way.

All tracks have been digitally re-mastered and re-mixed in 2003 for this CD. The audio quality is excellent and sound engineer John Wood did a great job, as usual.

The booklet provided contains beautiful artwork, three nice photos of Nick plus interesting liner notes by Cally, Robert Kirby and John Wood. In my opinion this album is a must-have for a true fan of Nick's music.
TRACKS
1. Rider On The Wheel
2. Magic
3. River Man
4. Joey
5. Thoughts Of Mary Jane
6. Mayfair
7. Hanging On A Star
8. Three Hours
9. Clothes Of Sand
10. Voices
11. Time Of No Reply
12. Black Eyed Dog
13. Tow The Line

Nick - Vocal and acoustic guitar on all tracks except Magic

Rider On The Wheel stereo re-mixed version
Magic (I Was Made To Love Magic) Nick - Vocal new version orchestrated by Robert Kirby *
River Man early version recorded as a demo in 1968 by Robert Kirby
Joey re-mastered version
Thoughts Of Mary Jane re-mastered version Richard Thompson - electric guitar
Mayfair early version recorded as a demo in 1968 by Robert Kirby
Hanging On A Star alternate version
Three Hours early version 'Reebop' Kwaakhu Baah - congas (unknown) - flute
Clothes Of Sand re-mastered version
Voices (Voice From The Mountain) stereo re-mixed version
Time Of No Reply new version orchestrated by Robert Kirby *
Black Eyed Dog stereo re-mixed version
Tow The Line recorded in 1974, discovered in 2003

* orchestration performed by Julia Singleton, Gina Ball, Sally Herbert, Anna Morris - violins Clare Orsler, Amanda Chancellor - violas Diana Beamish, Ian Burdge - cellos Karen Jones, Jane Spiers - flutes Rory McFarlane - double bass
Bernd Kroll, 2008